If you're planning to visit Walt Disney World while you're expecting, you're going to want to check out these tips to help you while pregnant at Disney world and how to enjoy Disney while pregnant.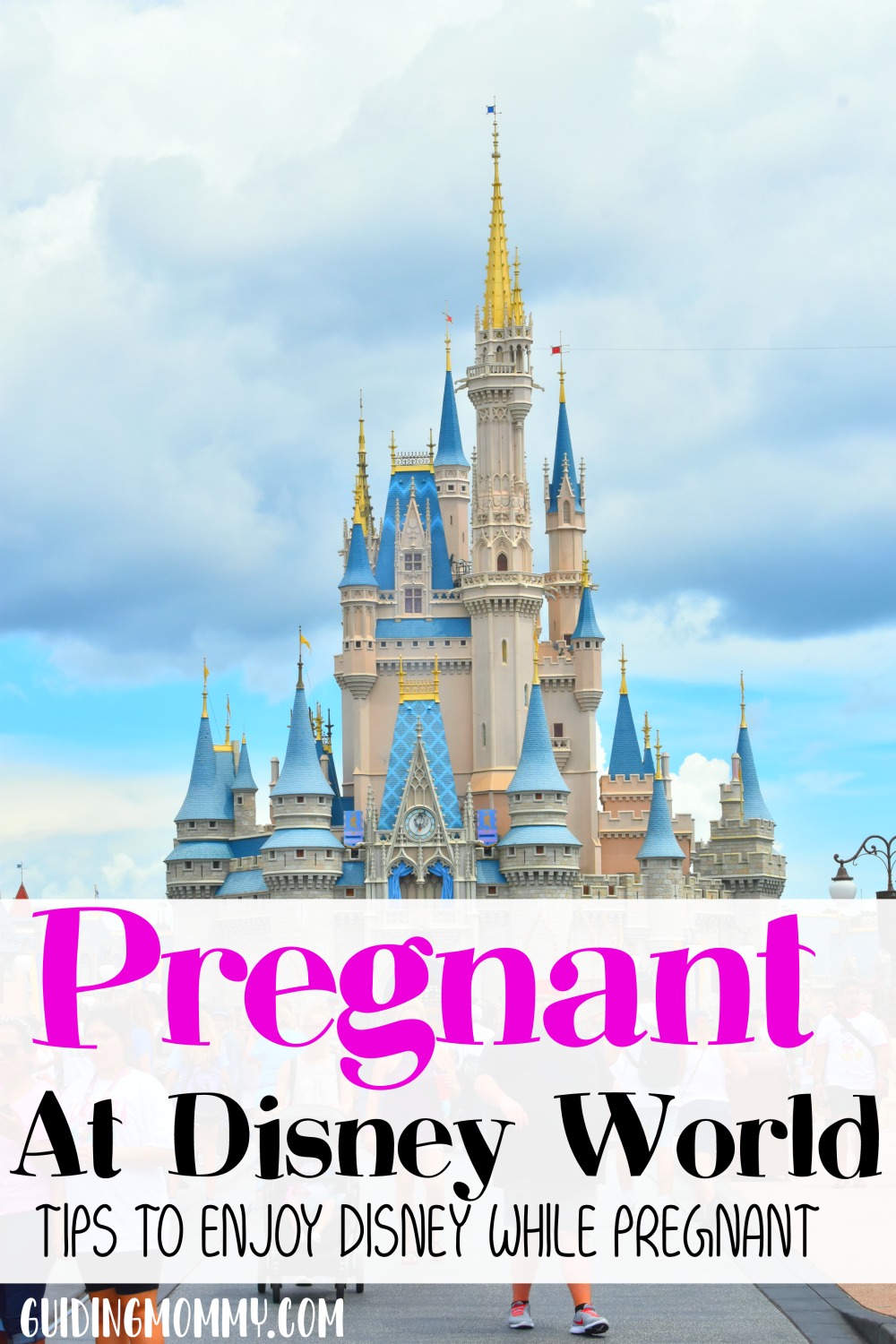 Pregnant at Disney World: How to Enjoy Disney While pregnant
Having six kids I've had the experience of going to Disney world with kids of all ages and stages including while pregnant. It can be magical to think of being at the happiest place on earth while carrying your precious little pumpkin. That being said, there are a certain amount of obstacles that come with navigating Disney theme parks while pregnant.
Never fear mama. That doesn't mean you should avoid Disney just because you have a little one on the way. What it does mean is that you should do a little preparation ahead of your trip.
On that note, I'm going to share some super simple tips for how to do Pregnant at Disney World. Most important How to enjoy Disney while pregnant, so you and your little one to be experience the Disney magic you deserve!
Tips for being Pregnant at Disney
Know where the restrooms are. You're going to use them…a lot. Save yourself some discomfort by doing a little restroom research ahead of time. Don't wait until you're in an urgent situation.
Wear supportive shoes. Even if you don't love the look of supportive sneakers and sandals, your body will thank you to wear them anyway. The extra weight you're carrying makes spending all day on your feet extra hard.
Take frequent breaks. We don't need another hero. If ever you've earned the time to take a load off, it's now! You'll be able to stick it out much longer if you don't try to push through your fatigue.
Stay Hydrated: Florida is Hot and certain times of the year are hotter. It's incredibly important you stay hydrated or it could cause contractions or hurt you and the baby. Here's a great list of places you can refill your water bottles at in Disney World.
Schedule time for breaks. I would even go as far as saying to schedule a down day. Depending on how pregnant you are make sure and schedule some nap times or breaks and some down time or you will feel horrible. I know with pregnancy and if you have little ones chances are you will try to be superwoman. Disney World is tough when you're not pregnant, add pregnancy and it can be extra tough.
Skip the hard rides. This is a given but it should be said nevertheless. Here's a complete list of ride restrictions HERE your guide map also has a great list as well, but the big ones are as follows. Magic Kingdom: Big Thunder Mountain Railroad, Splash Mountain, Barnstormer, Space Mountain, Tomorrowland Speedway, Seven Dwarfs Mine Train; Epcot: Test Track; Disney's Hollywood Studios: Tower of Terror, Rock 'n' Roller Coaster, Star Tours, Slinky Dog Dash; Animal Kingdom: Dinosaur, Kali River Rapids, Kilimanjaro Safaris, Expedition Everest; Avatar Flight of Passage.
Bring a Bathing suit. Taking a dip in the pool and a nap will be a huge battery charger while visiting when pregnant. You will thank me for this one.
Stay on property. This may be pricey but well worth it,especially when you can take advantage of transportation to and from the parks and hotels. Plus you can leave the parks and still stay with the magic.
Wear a Pregnancy belt. If you're far enough along then it's important to have support. A pregnancy belt is a fantastic way to get it. It will help your body while you do all the walking.
These are just some tips to help you maneuver Disney while pregnant. Get ready to have the most magical Walt Disney World theme park experience ever. Trust me when I say you'll always remember the "first time" you go to Disney World with your child, even in utero!
Most important speak to your doctor before heading on a trip to Disney world to make sure you have no health impediments that may make staying at the theme park . Visiting Disney World while pregnant was exhausting but one of the fondest visits I had. Just listen to your body and remember to take it easy, this isn't a race just a Magical Vacation!
Have you visited Disney World pregnant ? What are some tips you have to make the vacation magical?