Looking for a list of the best non-toxic crayons for toddlers then you've come to the right place! Check out some great crayons that are perfect for little hands!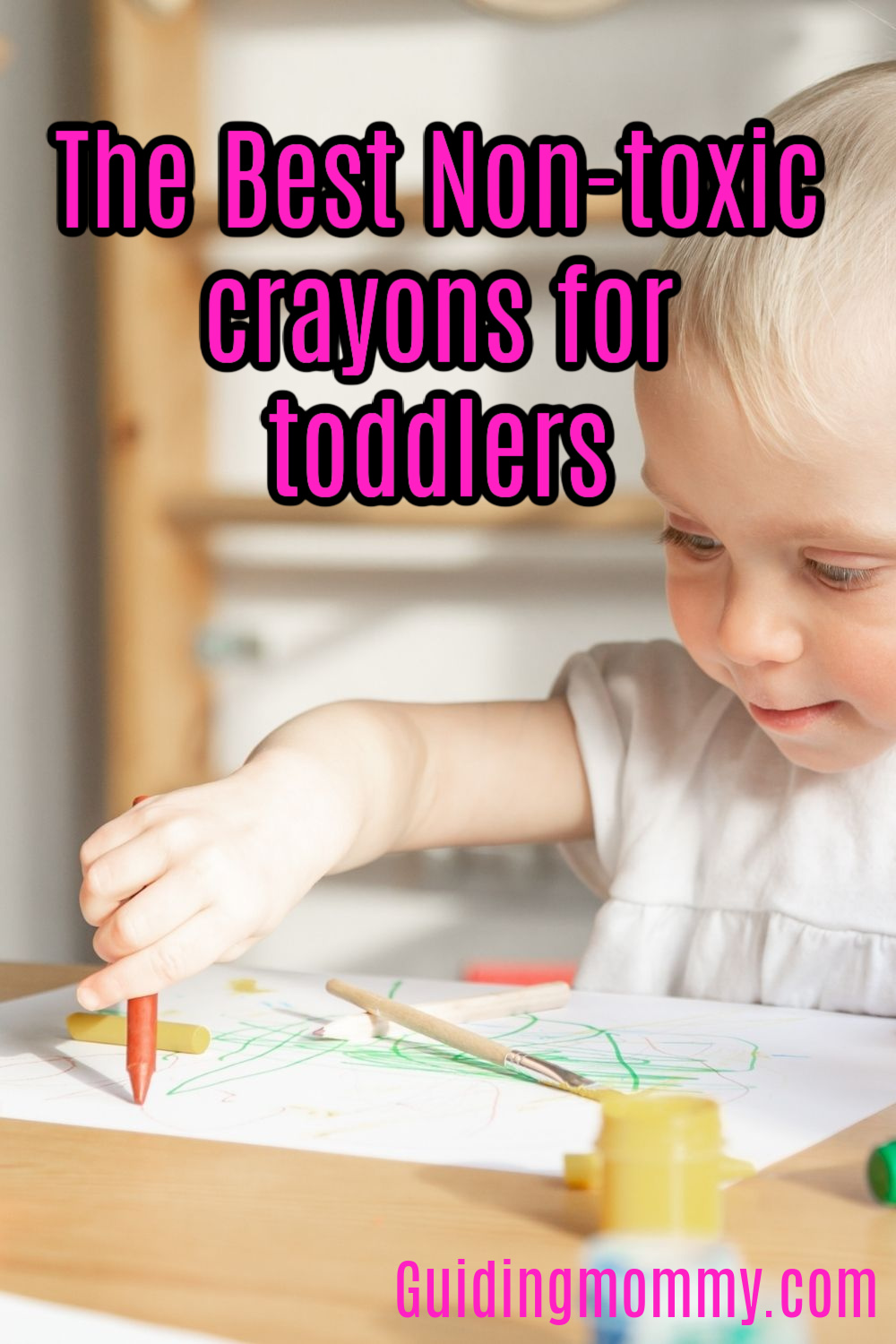 *This post contains affiliate links. By purchasing from these links I'm earning a small commission at no charge to you.
Non-toxic crayons for toddlers
Parenting during the early years can be hard. There are so many things one wants to do to help your little ones be the best they can be. There are many ways to make parenting easier during the early years. Here is one way! Toddlers love to draw!
They will either do it on a piece of paper or on your wall. They will use permanent markers or a random pen. That's why it's important to get ahead of them with some non-toxic crayons for toddlers! Because they have small hands toddlers need the right crayons to get the job done. Coloring is important for kids of all ages. Little hands long for the feel of jumbo crayons in different colors to help them create masterpieces. Thick crayons are the perfect size for a child's hand.
Using crayons is amazing for fine motor skills and important for helping budding little artist express their individuality. Toddlers are naturally curious and are drawn to vibrant colors, different shapes, and colorful crayons. That being many young children are drawn to regular crayons many of which may have toxic chemicals in them depending on what brand you buy. That's why I've put together a fun list of great crayons that put your child's safety at the forefront of their products perfect for tiny hands and ready to help them with their cognitive abilities.
This list will help give you peace of mind and help tap into your toddler's creative side! Making coloring a favorite activity for all of you!
Benefits of Coloring for Toddlers
There are many benefits of coloring for toddlers. Because they're so little many times we may think they're not ready to get introduced to complex activities but coloring is one of those things that needs no introduction just the right tools and their imagination. This is the perfect activity to begin at a young age. Through coloring, they are able to develop their creativity and imagination by giving them free rein on what colors to use. Let them color and tell you what they created. There's nothing more amazing than seeing the world through a child's eyes and color exploration.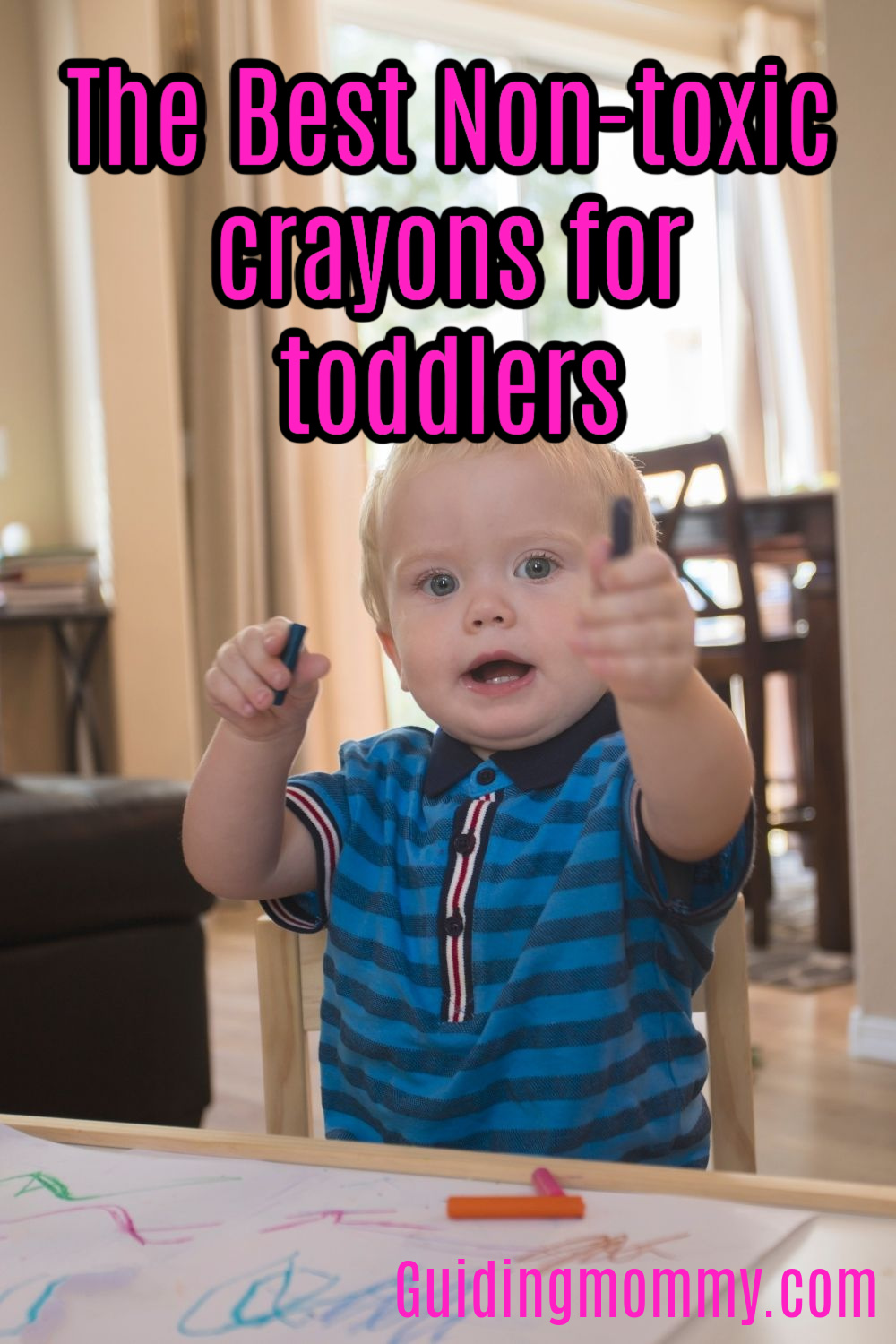 Finding the best crayons for toddlers
Many crayons are filled with toxic ingredients, dangerous chemicals, heavy metals, and cheap fillers. You also want to stay away from twistable crayons that may have choking hazards. The perfect toddler crayons should include bright colors with food-grade pigments. Having them use large crayons, in chunky shapes that that will help develop the tripod grip muscles and important muscle group occupational therapists work on with small kids. An important fine motor skill they need to develop. Most important they need safe crayons with natural ingredients.
I love all the crayons in the list below because of the variety of shapes, sizes, and colors you will find them. There are so many great choices to help your little one with their creativity!
So read on to check out some great crayons that will be the perfect addition to your child's art supplies.
The Best Non-toxic crayons for toddlers
Non-toxic crayons for toddlers
Looking for the best non toxic crayons for toddlers then you've come to the right place! Check out our top picks for the best non-toxic crayons out there!
I hope you enjoyed this list of the best crayons. Find the best products for toddlers. Make sure and check back to see all the other great articles and products to help the early years easier for everyone!
Looking for more fun taste safe activities? Check out this fun 2 ingredient frosting playdough and if your child isn't allergic you can check out this peanut butter playdough!
Have older children? Here's a fun activity for them! Handmade crayons.