This Blueberry Banana Fritters recipe is the perfect toddler snack recipe. Made with 3 simple ingredients that your little one will love. It's also the perfect first foods for your baby.
Blueberry Banana Fritters- The Perfect Toddler Snack
Having 6 kids has pretty much made me a culinary expert when it comes to creativity. I've had picky eaters and eaters who can't eat enough. So one of my goals has always been to make foods that aren't empty in calories when I do get them to eat. There are some great first foods that will help toddlers. Especially those that don't eat well.
It's important to make sure you use the right combinations to cut out extra things that may not be so good for them, yet still make them flavorful.
When making food for my little ones I've tried including fruits and veggies along with sprouted flour, and other ingredients that are more complete.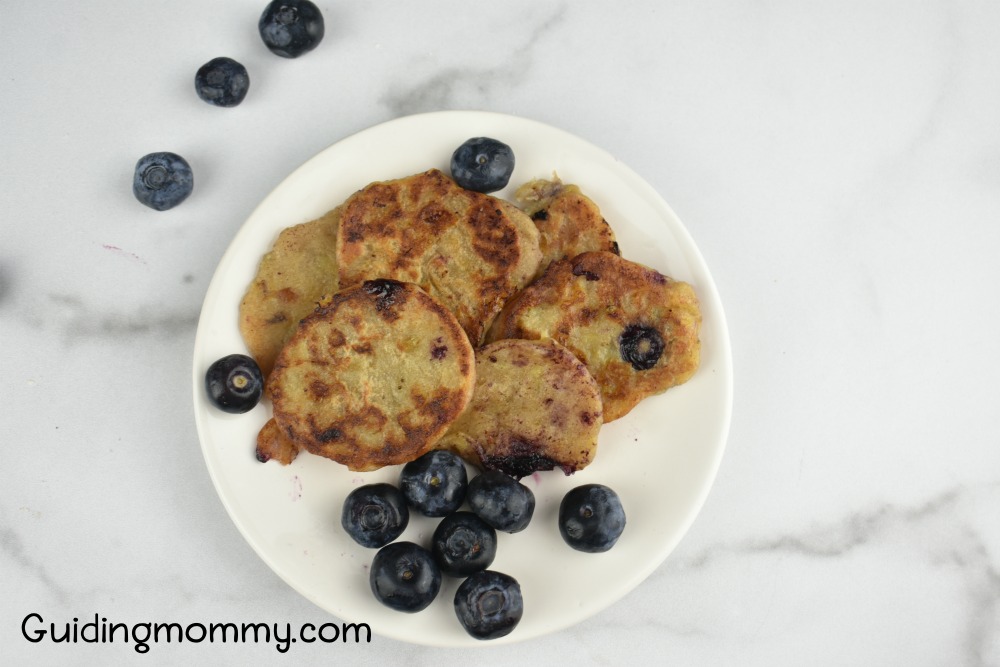 Toddler's love to snack
One thing that I've come to realize more than anything is that toddlers love to snack. They love to pick here and there because hello,they're busy bees! That's why when I do have a snack available I want it to be something good for them and that they can eat on the go. That's why I love these Blueberry Banana Fritters. These have been a huge favorite in our home since my oldest (now 13) was a baby.
My friend who already had a few kids of her own would make a bigger version for her kids replacing regular pancakes. Because of the sweetness of blueberries and bananas they didn't even have to add syrup or honey.
Blueberries are a great addition to the basic recipe of banana and flour because of their superfood status. The fact that they are also great first foods for baby is a plus.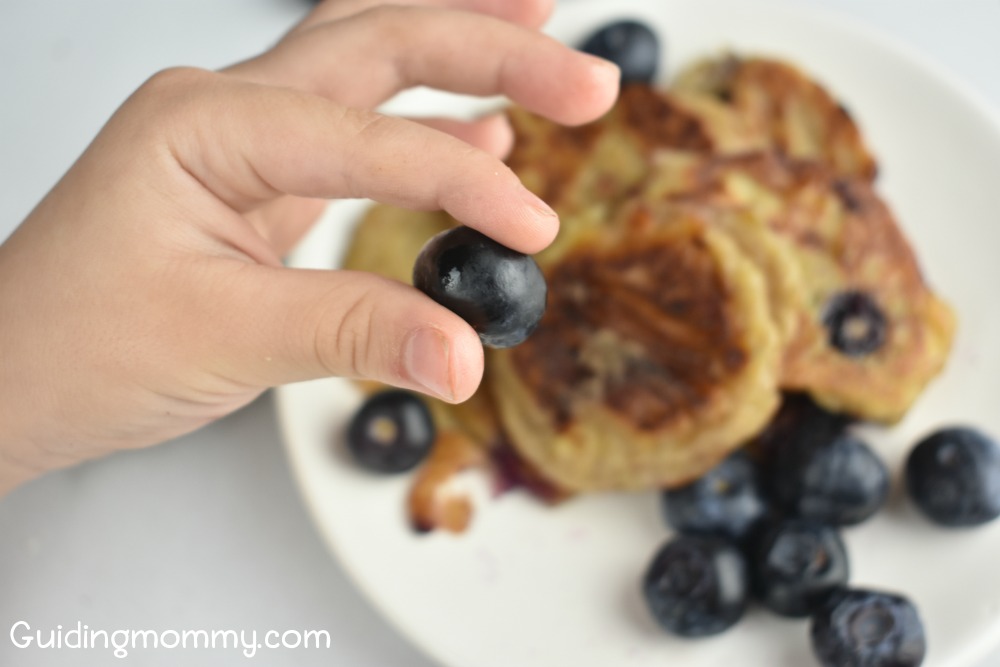 My oldest was always a picky eater as a toddler/ preschooler. You wouldn't know that seeing him now and how he downs food like bulldozer. However, being my first and teaching him proper love of food paid off. He may eat like tiger but he watches what he eats all the time. Although he enjoys the random treat he prefers fresh fruits and vegetables over a piece of cake.
Although we all have a sweet tooth in our family this delicious recipe more than makes up for the sweetest treat around.
Making this recipe couldn't be easier. What I love about it is that you can literally have the ingredients around to whip up a delicious batch.
What you'll need to make Blueberry Banana Fritters
2 ripe bananas
1/2 cup sprouted wheat flour
1/2 cup blueberries
1 tsp coconut oil for frying
To begin Mash the bananas and add gradually add the sprouted wheat flour. You can of course use regular flour but because I want the little ones to have the most out of this snack sprouted wheat is a healthier option. As a matter of fact we should all add Sprouted grains to our diet.
Mix it thoroughly until it becomes almost like a batter. When adding the flour make sure you add it gradually. Sometimes adding the ful half cup may make it too thick because of the size of the bananas. So just eyeball it.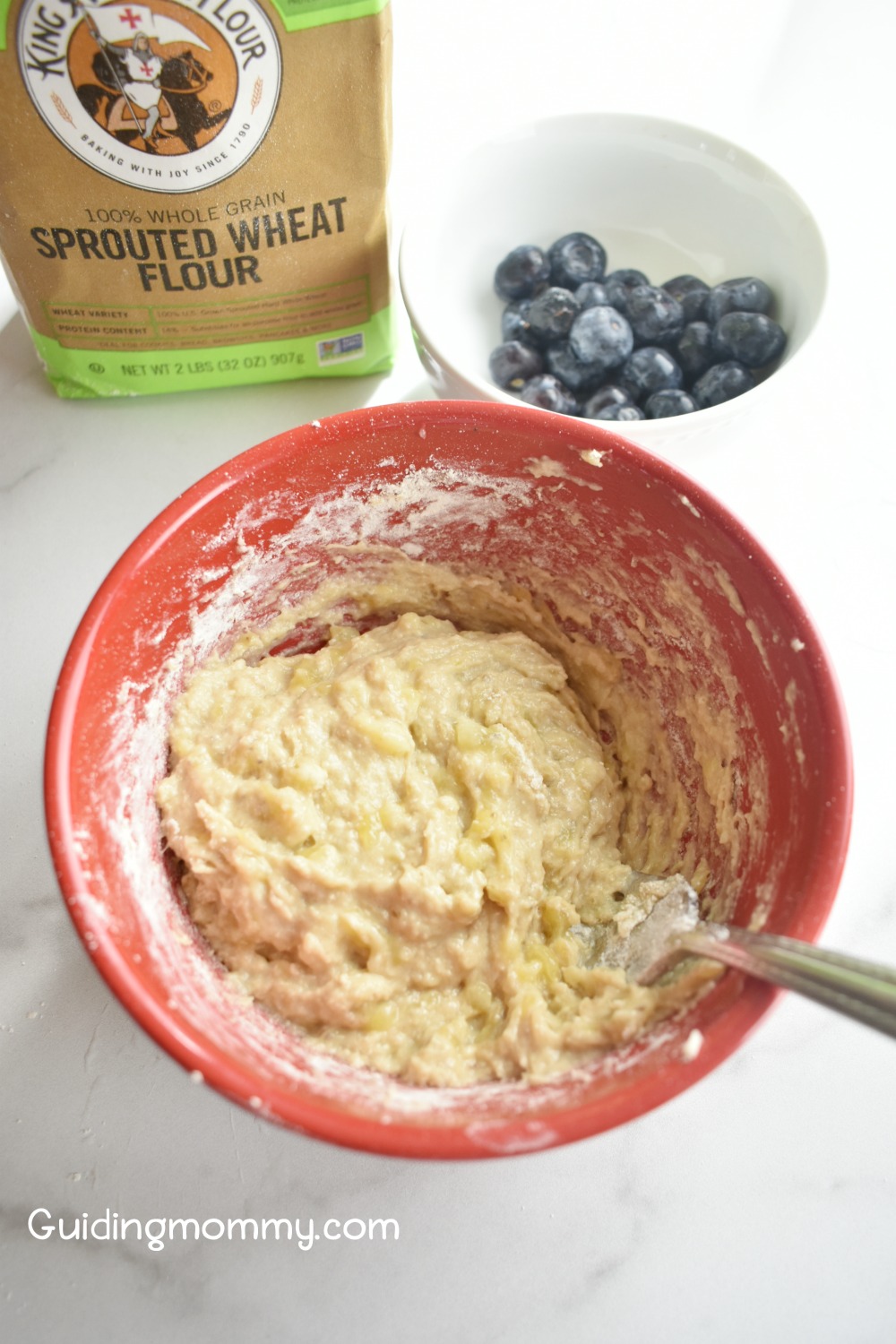 Then add the blueberries and mix them in.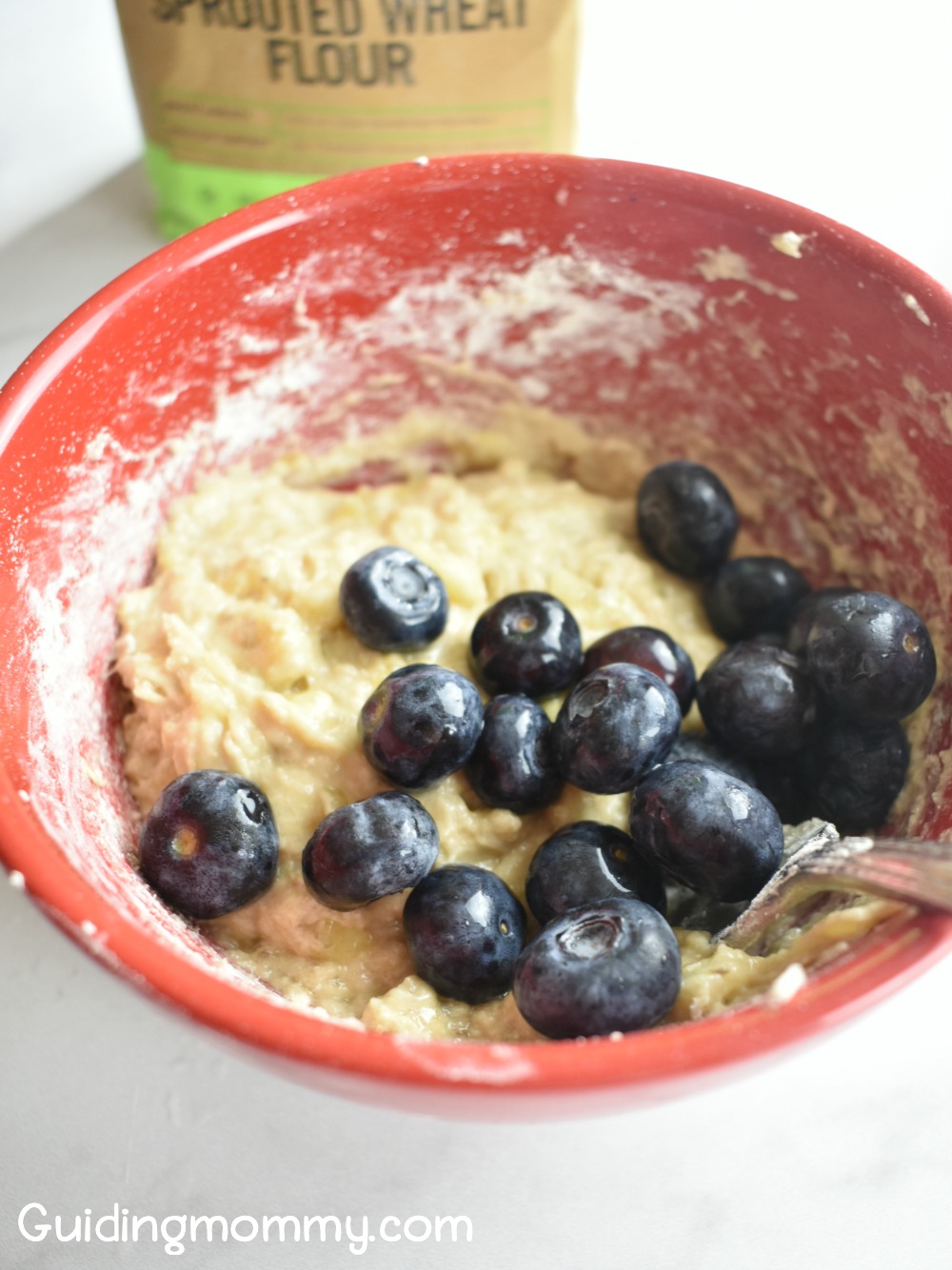 Heat a non stick frying pan on high and add the coconut oil. When it's hot turn it down to medium. Begin adding the batter in increments of 1 tablespoon.
Fry them until they're brown on both sides. I like to give them a little flatten them with the spatula a bit on the top while they're frying. So as to cook everything inside.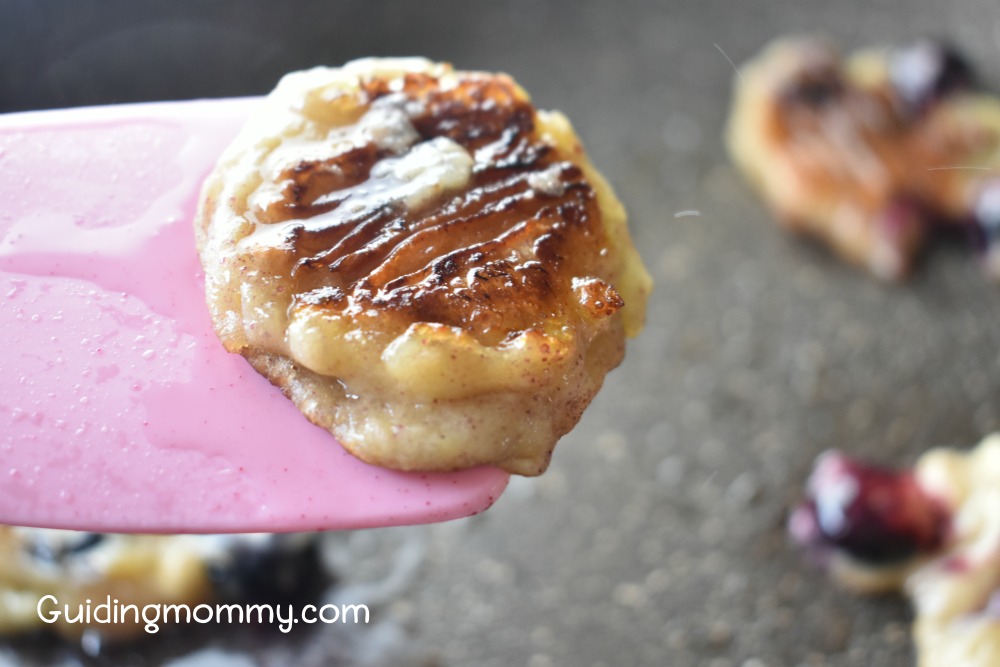 I place them on either a paper towel or dish while they cool down.
A Perfect Toddler Snack
These will be absolutely delicious when cooled down. I would even serve them a little warm or as warm as your toddler can handle. The delicious taste of the warm blueberries are heavenly.
I always crack up when I make them because my older kids will dig right in. So I always have to make sure I make enough for the littles and the bigs!
This recipe is so crazy easy to make and you can alter it to fit your families needs.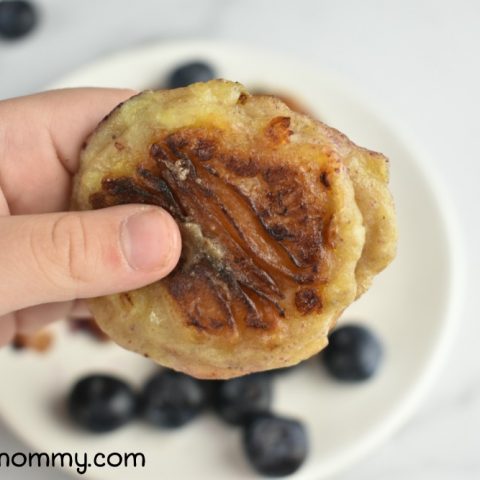 Blueberry Banana Fritters- The Perfect Toddler Snack
Prep Time: 10 minutes

Cook Time: 8 minutes

Total Time: 18 minutes
Ingredients
2 ripe bananas
1/2 cup sprouted wheat flour although plain flour can be used as well
1/2 cup blueberries
1 tsp coconut oil for frying
Instructions
Mash bananas
Stir in the flour and mix thoroughly
Mix in the blueberries
Heat a non stick frying pan on high and add coconut oil.
Reduce heat to medium.
Spoon 1 tbsp of batter into frying pan per fritter.
Fry fritters until brown on both sides
Remove fritters and allow to cool before serving.
Can be served a little warm but be careful they will be hot.

Notes
I use a little bit of coconut oil because it helps fry them but you are welcome to use a non stick pan and not use coconut oil.

Did you enjoy this recipe? Make sure and check out more Toddler Snack recipes over on my Sister Page Conservamom.
Most important, don't forget to share this post or repin it so you can make it later!